The Montserrat Foundation, 2025 was established on July 4 1997. It is the instrument that puts us in the twenty-first century because the hands generations of today and tomorrow we can continue to have an institution like Montserrat, a desire for people to help maintain and promote the values spiritual and cultural services to a cohesive society, sensitive to the roots and open to the world, and safeguarding creation.It is fair to ask whether the monks of Montserrat do not even have enough resources own to carry out this mission and this group. It When, therefore, to inform our people of the harsh reality from the point of economically, which has raised Montserrat decades. Montserrat gets of catering services and trading – well known by everyone – resources enough to keep, but to renew itself and prepare itself to face future. In 2007, Montserrat was given, according to the Government over 2.2 million visitors, one of the most visited of Catalonia. this huge traffic and the complexity of Montserrat, ask about public subsidies which, however, given the financial situation of government, each arriving time in less quantity and more difficult.
Contact:
Business Hours: 09.00 – 13.30
Phone: +34-93 877 7725
Email: Contact us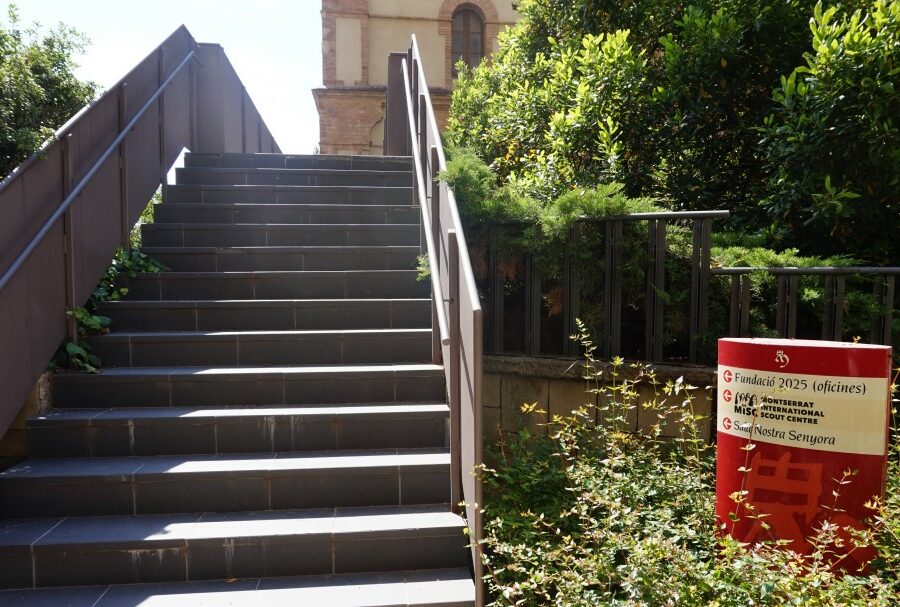 The main finality of the Foundation is collaborating with the Abbey of Montserrat to promote and encourage the social, cultural and ecologic values, which are part of the values of the Monastery and the Sanctuary of Montserrat on benefit of the pilgrims and visitors, who go up to Montserrat
This finality is set looking financial assistance for the cultural and social equipments of the Sanctuary.
The Foundation Abadia de Montserrat 2025 has the next purposes:
Spread the needs of Montserrat and obtain resources to attend them.
Use the funds raised for the purpose for which they were donated.
Collaborate, with a part of these funds, in social and aid works to the most vulnerable.
According with its statutes, the Foundation Abadia de Montserrat 2025, over the years, has linked to this project companies institutions and also individual persons. Thanks to it, it has been possible to initiate an important task of rehabilitation and expansion of the architectonic, artistic and social infrastructures of Montserrat as a whole. With the aids it has been also possible to do a social work in national poor and marginalized areas and also in countries with several lacks of social and economic development.
The members of the Foundation have collaborated giving new ideas and encouraging to continue the work for arriving to the 2025 in the best possible conditions. The Foundation's challenges to face are very important. One of the needs most immediate is to achieve the economic remediation of the Escolania (one of the most ancient and prestigious music schools in Europe working since the 14th century)
Montserrat receives more than two millions visitors per year. It is the second holiday destination more visited in Catalonia, after the city of Barcelona.
This affluence of visitors, associated to the complexity of Montserrat, implies exigencies of attention and service to the visitor.
The Foundation aspires to be a tool for the Abbey of Montserrat for proposing new services and facilities in its areas of activity and also put in value those already operating in order to satisfy the expectations and the needs of their users (pilgrims, tourists, researchers, interested persons) and give them to known to the society.
We desire to be seen as a modern, flexible, and agile institution, which has the aim to be technologically updated and giving value to our collaborator members and to the Abbey of Montserrat.
We work for obtaining the economic and in-kind resources, from whom is interested in what Montserrat represents, in order to cover its needs in its areas of activity and infrastructures.
We do it with vocation of service, trasnperency, coherence, honestity. Having always present the interests and expectatives of the Montserrat's areas of activities and also those of our present and future members.
We aim to arrive to 2025 having contributed actively to make possible a group of acts for commemorating the millennial of the Abbey, which have placed Montserrat as a center of excellence and with global appeal.
Father Manel Gasch i Hurios, Aboot of Montserrat
Father Bernat Juliol i Galí, prior of Montserrat and CEO
Father Ignasi M. Fossas i Colet, administrator of Montserrat
Father Josep M. Soler i Canals, Abbot emeritus of Montserrat
Father Sebastià Bardolet i Pujol, Abbot emeritus of Montserrat
Brother Josep Galobart i Soler, Member of the Board
Mr. Raimon Bergós i Civit, Secretary
Mrs. Marta Milla i Carbonell
Collaborating members of the Fundació 2025
Legal persons
Agbar / Agropecuaria de Guissona / Ajuntament d'Abrera / Ajuntament d'Igualada / Ajuntament de Balenyà / Ajuntament de Bellvei / Ajuntament de Cervera / Ajuntament de Flix  / Ajuntament de la Comtal Vila de Ripoll / Ajuntament de Manlleu / Ajuntament de Manresa / Ajuntament de Martorell / Ajuntament de Matadepera / Ajuntament de Sant Andreu de la Barca / Ajuntament de Sant Fruitós de Bages / Ajuntament de Sant Sadurní d'Anoia / Ajuntament de Terrassa / Ajuntament de Tordera / Ajuntament de Vila-seca / Armand Basi / Associació Catalana de Municipis i Comarques  / Autopista Terrassa-Manresa, Autema / Bidons Egara / Busquet, Economistes – Auditors – Advocats / Caixa Rural de Guissona / Caprabo / Cementos Molins / Circutor  / Club Excursionista de Gràcia  / Col·legi d'Aparelladors, Arquitectes Tècnics i Enginyers d'Edificació de Barcelona /  Col·legi Oficial de Metges de Barcelona / Consell de Col·legis Farmacèutics de Catalunya  / Construccions Cots i Claret / Corporación Alimentaria de Guissona /  Diputació de Tarragona / El Corte Inglés  /  Establiments Viena / Federació de Municipis de Catalunya / Fundació Abertis / Fundació Antoni Serra Santamans / Fundació Banc Sabadell / Fundació Bancària "la Caixa" / Fundació Damm / Fundació FIATC / Fundació Fluidra / Fundació Miquel /Fundació Pinnae / Fundació Sorigué / Fundació Uriach / Fundación Família Torres / Fundación Puig / Fundación Renta Corporación / Fundación Repsol  / Funicular Aeri de Montserrat / GCT Plus ETT / Gremi Provincial de Pastisseria i Confiteria de Barcelona  / Institut Agrícola Català St. Isidre  / Institut Europeu de la Mediterrània  / Kone Elevadores / Laboratoris Esteve / Mercadona / Montepio Conductors Manresa-Berga / Oliva Torras / Ortega i Palau / Patronat de la Muntanya de Montserrat / Puigdellivol (Fusteria – Museografia – Decoració) / Reale Seguros / Rodman Gràfiques / Seguros Catalana Occidente / Serveis Funeraris de Barcelona / Urcotex I  / Userkaf
Institutional agreements
Acadèmia de Ciències Mèdiques de Catalunya i Balears / Consejo Superior de Investigaciones Científicas / Design for all Fundation / Ferrocarrils de la Generalitat de Catalunya / Fundació Althaia / Fundació Ampans  / Grup Miquel y Costas / Institut d'Estudis Catalans  / Institut d'Estudis Eivissencs  / Institut Menorquí d'Estudis / Universitat de Barcelona / Universitat de Vic  / Universitat Internacional de Catalunya / Universitat Politècnica de Catalunya / Universitat Ramon Llull
Collaborating media
Diari Ara / Diari de Girona  / Diari de Sabadell  / Diari de Terrassa  / Edicions Intercomarcals – Regió 7 / El 9 Nou  / El Periódico   / El Punt Avui / La Vanguardia
Physical persons
Aragonés Pellejà, Ramon / Arespacochaga Martínez, Montserrat / Artigas Miró, Antoni /Asensio Llobet, Pere / Bacardí Tomàs, Montserrat / Basi More, Núria / Bigorda Arruego, Laura / Biosca Alonso, Mercè / Bofill Ferré, Lluís / Bosch Pinyol, Baldiri / Bosch Pinyol, M. Assumpta / Canet Català, Àngel / Carbó Bordas, Anna M. / Carbó Bordas, Jordi / Casanova Barberà, Misericòrdia / Closa Fusté, Montserrat / Cosculluela Llort, Carles / Enrich Camprubí, M. Antònia / Escolà Gené, Francesc Xavier / Ferré Vidal, Josep / Ferrer Clausell, Joan / Ferrer Roura, Concepció / Ferreres Pueyo, Ramona / Figuerola Manich, Josep / Fluvià Creus, Jordi / Font Torrent, Joan / Fort Gavaldà, Montserrat / Gómez Varderi, Jordi / Gomis Marqués, Bonaventura / González Gasulla, Joan / Gotsens Vives, Joan / Guimerà Ballús, Joan / Izcara Meix, Santiago / Jané Vidal, Mercè / Jorba Canales, Jordi / Jorba Canales, Xavi / Jou Riu, Elena / Leal Blanquet, Joan / Llopart Mumany, Montserrat / Llorenç Gadea, Josep Alfons / Lorenzo i Carcasó, Joan / Marcet Prims, Jaume / Martínez Ibáñez, Frederic / Martínez Serra, M. Assumpció / Massó Garres, Delfín / Matencio Selva, Agustí / Miralda Casanovas, M. Carme / Morgades Ferrando, Pere / Olivé Fontanals, Ramon / Parramont Abelli, Lluís / Poll Barbarà, Pere / Pros Giralt, Ramon / Puig Ginesta, Montserrat / Puig Puigdomènech, M. Rosa / Puig Reguant, Jesús / Pujol Radigales, Joaquim / Puyuelo Laplana, Celso / Roca Barceló, Carme / Roquet Vergara, Carles / Sacasas Domènech, Montserrat / Samarra Serra, Frederic / Sanz López, M. Rosa / Sendra Rovira, Montserrat / Solà Rovira, David / Soler i Massanés, M. Mercè / Terés Soler, Francesc / Turull Garriga, Josep M. / Tuset del Pino, Pere / Tutau Suñer, Jaume / Uriach Torelló, Javier / Vallcorba Segales, Jaume / Viñas Vila, Joan / Xurigué Camprubí, Francesc / other donors who wish to preserve their anonymity.
We thank you all for the trust you show us year after year with your involvement with Montserrat
Foundation 2025